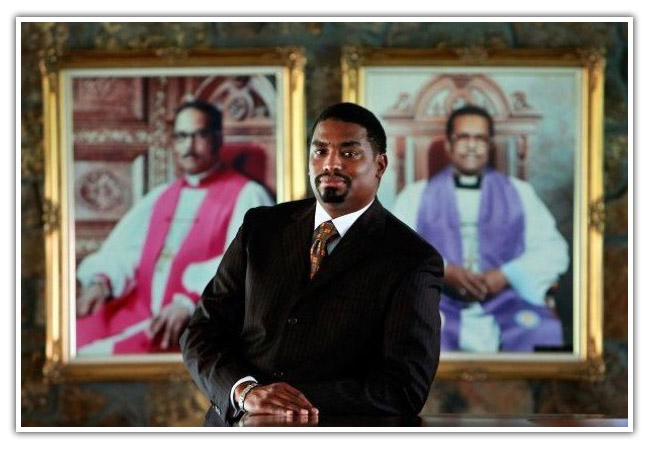 "Grace be to you and peace from God our Father, and from the Lord Christ."
II Corinthians 1:2
Bishop Charles Harrison Mason Patterson was born Sept. 11, 1976, to the union of the late Bishop J. O. Patterson, Jr. and the late Missionary Rose Kelly Patterson.
As the namesake of the founder of the Church of God in Christ, Elder Patterson was born a leader. He accepted his call to the ministry at age 16 and on Aug. 4, 1998, he was ordained an elder in the Church of God in Christ at the age of 21.
He has taken up the torch lit by his father, a former Chairman of the General Assembly and his grandfather, the Bishop J.O. Patterson, Sr., COGIC's first elected Presiding Bishop, and has committed his life to God's work. He has an uncompromising zeal for the people and things of God.
Through his life and ministry, Bishop Patterson has demonstrated a caliber of leadership well beyond his years. He presently serves as the Treasurer for the National Churches Of God In Christ and Superintendent of National Properties.
He served along side his father as pastoral administrative assistant for many years. After God called Bishop J.O. Patterson, Jr. from labor to reward in June 2011, Presiding Bishop Charles E. Blake appointed Bishop Patterson as Pastor of Pentecostal Temple Church Of God In Christ on August 6, 2011.
In November 2004, he was the youngest member to be elected to the Church of God in Christ National Board of Trustees. He has also served as District YPWW President for the Pentecostal District, Headquarters Jurisdiction and is the President & CEO of C. H. Mason Patterson Ministries.
The Patterson family has a long history of civic service to the City of Memphis and Elder Patterson is no exception. He is the President and CEO of the C.H. Mason Patterson Community Development Corporation and former Housing Rehabilitation Specialist for the City of Memphis Department of Housing and Community Development.
He is a very high-spirited servant of Christ who daily devotes his life to fulfilling his calling. Following in the steps of his father, grandfather and great-grandfather, he prays, fasts, and studies the Word of God daily in an effort to further understand the work that God has called him to do. Bishop Patterson wants nothing more than to have his cup run over with the love of God and the spirit of the Holy Ghost. His ultimate desire is to have God's will fulfilled in his life.
Bishop Patterson studied Mortuary Science at the Northwest Community College in Desoto County, Mississippi and General Education Studies at Southwest Community College in Memphis. He also has a certificate in Biblical Studies from Crichton College in Memphis. He is currently enrolled in Trinity Bible College.
Bishop Patterson is married to LaShaundra Cox Patterson. They have two sons, Tyren Deonte' and C. H. Mason Patterson, Jr. and one daughter, Kelly Rose Mason Patterson. Bishop Patterson is an avid hunter and fisherman.