REVEREND DR. FREDDY J. CLARK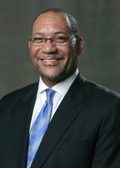 Reverend Dr. Freddy J. Clark, a native of St. Louis, accepted a call to preach the gospel at a young age. Since that time, he has been pastor of several churches and founded the Shalom Church (City of Peace) in 1993, where preaching, teaching, and praying are the foundational pillars of his ministry.
 Dr. Clark earned a Bachelor of Arts in Religion and Philosophy from Bishop College in Dallas, Texas. He received both a Master of Divinity and a Doctor of Ministry from Eden Theological Seminary. 
He serves on the Christian Hospital Board of Directors and as an Advisory Board Member for Clear Channel Communications, Inc. Dr. Clark served as Commissioner for Bi-State Transit Authority (Metro).  He is the recipient of several honors and awards including: the Harold Holliday Public Service Award, Missouri Legislative Black Caucus; Strong Families Award, Monsanto Family YMCA; Award of Merit, Urban League of Metropolitan St. Louis; Living Legends Award, Alpha Phi Alpha Fraternity, Incorporated; Interfaith Award, Muhammad Mosque 28; Lifetime Achievement Award, St. Louis Gateway Classic Sports Foundation; Citizen of the Year Award, Omega Psi Phi Fraternity, Inc.; named one of the 100 Most Inspiring St. Louisans, National Association of Colored People (NAACP).  Dr. Clark's sermons, The King Has Come and Samson's Weakness, along with his doctoral dissertation, Hospitality: A Ecclesiological Practice in Ministry, have been published.
His leadership in civic, personal and health related causes has been recognized both locally and nationally. Dr. Clark is responsible for organizing one of the largest church sponsored health fairs in the nation.  He was also one of the co-leaders of A Call To Oneness, a local march that garnered the support of over 20,000 African American men.
He is a member of Alpha Phi Alpha Fraternity, Inc. and 100 Black Men of Metropolitan St. Louis and Lifetime Member of the National Association of Colored People (NAACP). Dr. Clark is married to the former Cheryl Waller and they have 3 adult children, Terrence, Anthony, and Michelle.