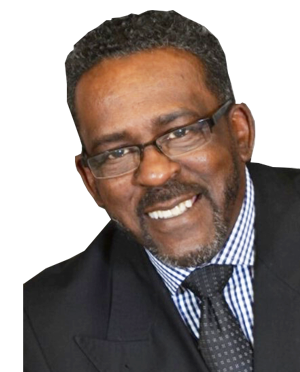 Kenneth N. Moore was born the second of three children in 1957 to Early and Hazel Moore of Madison, NC. He was raised in the faith and taught the importance of living a Christian life at Mt. Carmel Pentecostal Holiness Church, Madison, NC, where Bishop James W. France is Pastor.
Upon High School graduation in 1975, he enrolled at Appalachian State University, Boone, NC. Following his studies there, he served in the United States Coast Guard, where he served honorably for nine years. He preached his initial sermon in May of 2000 at Elm Grove Baptist Church, under the leadership of Dr. Clarence Johnson. He received a Bachelor of Arts and his Masters Degree in Divinity from the Bethlehem Bible College, Greensboro, NC. He has also completed studies in Evangelism, Pastoral Excellence and Church Administration. In May of 2008, Pastor Moore received the Doctor of Divinity Degree from Living Epistle Bible College, Greensboro, NC. After many years of studying Pastor Moore felt compelled for the true experience of an accredited seminary. In 2011, he enrolled at APEX School of Theology, Durham, NC. In May 2015, Pastor Moore received the Bachelor of Theology from Apex School of Theology, Durham, NC. He began his graduate studies at Shaw University, and is currently enrolled at Wake Forest University Divinity School, pursuing his Masters of Divinity.
He was called to Pastor the Sharon Missionary Baptist Church, Stoneville, NC in November 2004. He has made the vision clear that we are "RESTORING THE SAINTS . . . WITH LOVE".
Pastor Moore served as President of the Congress of Christian Education for the High Point Educational Missionary Baptist Association. He is President of the Western Rockingham County Minister's Fellowship. He serves on the Community Healthcare Awareness Council for Rockingham County, and is a member of the Reidsville NAACP. He also serves on the Board of Directors for the Rockingham County Partnership for Children, the Barry L. Joyce Cancer Support Foundation, and Rouse's Group Home, Inc. He serves on the Advisory Board, for the Fellowship of Christian Athlete's (FCA) of Rockingham County Schools. Recently, he has been appointed to the Board of Directors for the Housing Consultants Group of Greensboro, NC.
He is married to the former Angela Cobb for the past 40 years, and to this union God has blessed them with three children, Harlan (Janell), Tiffany (Eric), & Shannon (Joey). They are also proud grand-parents to Christopher (C.J.), Chelsea, Chaiya, Justis, Talan, Chaylia, Shamar, and Takari.