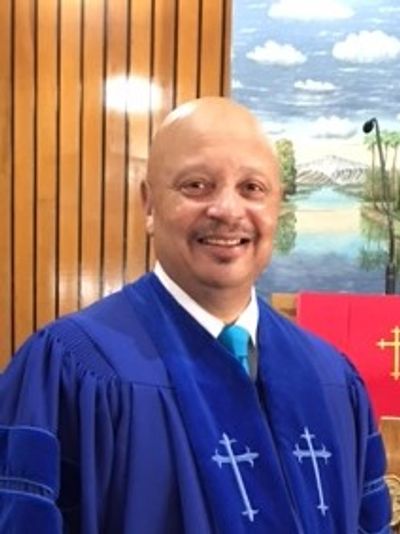 Reverend Doctor Percy Raymond Chase was born in Washington, DC to the late Reverend Lendale W. Chase and the late Mrs. Elnora Ellis Chase. 
Reverend Chase received his education in the public schools of Danville, Virginia and Virginia Beach, Virginia. While pursuing his Bachelor of Science Degree at Norfolk State University, Reverend Chase accepted the call of God to preach the Gospel of Good News. To better prepare himself for this awesome task, He attended Southeastern Theological Seminary, Wake Forest, North Carolina and graduated with a Master of Divinity Degree.
Knowing that the test of his ministry is faithfulness and commitment, Reverend Chase has faithfully stood Sunday after Sunday admonishing us, as Christians and as church members, to higher heights and deeper depths in our worship, our giving, our prayer life, and our spiritual commitment to Christ and the ministry of the church, and our spiritual and moral obligations to our families, as well as to one another. He encourages us to read God's Word daily, stand on that Word and to put our faith in action. 
Dr. Percy Chase's contribution to the body of Christ, have covered many positions: Executive board member and Constitution Committee Chair of the Interdenominational Minister's Alliance, New Hope Association Executive Board member and Constitution Committee Chair, General Board Member of the General Baptist State Convention USA, Inc., NAACP, Executive Board Member of the Recovering Women Services, and Executive Board Member of the DCTV-8 Access Association, and National Director of Campus Ministry of the National Baptist Convention. 
Pastor Chase's former affiliations include: President of the Durham Minister's Alliance 1993-95, served and chaired several committees in the Minister's Alliance, Secretary and Assistant Secretary of the Executive Committee of the General Baptist Convention, Inc. of North Carolina, Association member of the Tidewater Metro-Baptist Minister's Conference, President of Norfolk State Christian Fellowship of Norfolk State University, Athletic Director of Southeastern Seminary, National Baptist Congress Christian Education Instructor of Young Peoples Leadership, and Past Moderator of the New Hope Association 1995-1999. 
We are blessed to have a Pastor and Gospel Preacher who was divinely called and sent, appointed and anointed for the task.
In April 1978, Reverend Chase accepted the call to become "The Under Shepherd" of Community Baptist Church. With his vision and leadership, the church has grown both spiritual and physically. More than a dozen church ministries have been implemented under his leadership.